Welcome to Lieschen Mueller im Parterre
Experience Restaurant and Burlesque Bar
beneath the Berlin TV Tower
Every Night Show and Live Music
Lieschen Mueller im Parterre invites you to her fabulous world of glamour and dance! Enjoy matching drinks at our sparkling circus bar and indulge in Berlin delicacies at the experience restaurant. Let the Cirque du Burlesque Show seduce you in the evening, while costumed barmaids and barkeepers try to fulfill your every desire. Immerse yourself in our daring parallel universe and let yourself be captivated. You can find us at the foot of the Berlin TV Tower at the world-famous Alexanderplatz in the heart of the capital. We're open from Tuesday to Sunday starting at 9 in the morning.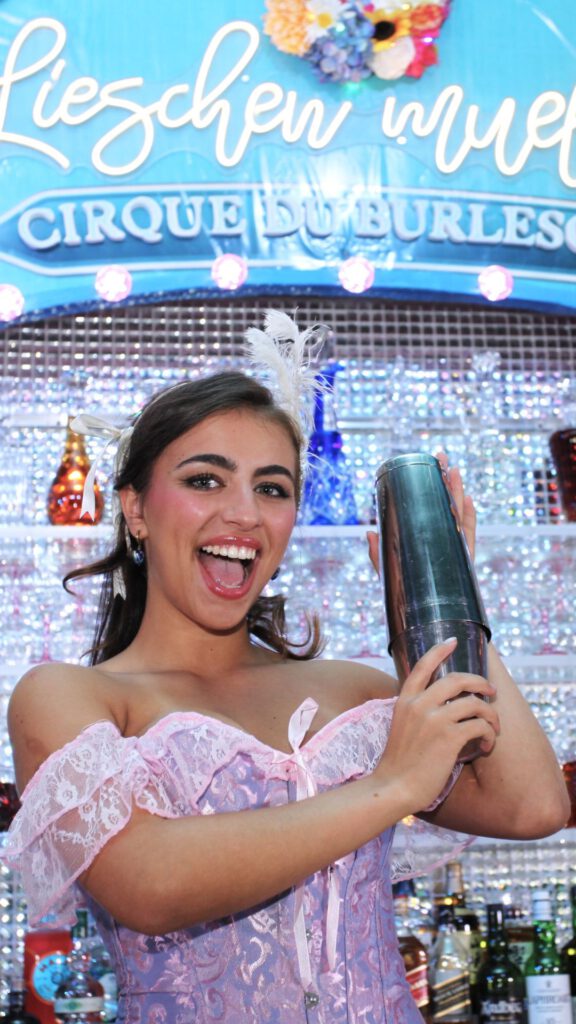 German Cuisine and Fine Drinks
With an opulent offering of dishes, Lieschen Mueller takes you on a culinary journey from morning to night. Traditional German dishes, Berlin originals, as well as popular recipes from the former GDR, will make you savor Berlin in the truest sense. From breakfast, lunch, ice cream, coffee and cake to dinner – indulgence reigns all day long with us. Connoisseurs of refined drinking culture will be delighted by solid drinks and cocktails expertly crafted by passionate bartenders. So, what are you waiting for? Take Lieschen's hand and follow her on an extraordinary Berlin adventure.
Cirque du Burlesque Berlin
New Burlesque And Moderne Circus
Cirque du Burlesque at Lieschen Mueller im Parterre is a show as breathtaking as Berlin itself: cool, sexy, a little bit naughty, cheeky, loud, funny… and guaranteed never boring!
Let yourself be captivated by the art of entertainment theater, the charm of the wild 1920s, live music, and sparkling surprises. A show sensation right in the heart of East Berlin, directly beneath the TV Tower at Alexanderplatz!
The Story of Lieschen Mueller
The experience restaurant Lieschen Mueller im Parterre floor tells a true story. Admittedly, with a generous sprinkle of glitter, vibrant colors, and fanfare on top… but Lieschen is real. Her real name is Marlies.
During the Cold War era, she was an artist in the State Circus of the DDR. It was there that she met her great love, one of the tent builders and dismantlers of the circus. Dancing had always been her greatest passion. She had a special fondness for burlesque, the entertainment dance of the wild 1920s.
For many years, they traveled the country (but never to the West). When they wanted to start a family, they settled down in their hometown of East Berlin. They rented an apartment in Mitte and found work at the old Friedrichstadtpalast. Her husband became a stage technician there, and she became a vaudeville dancer. The famous clown Ferdinand became their close friend and one day gifted her a white rabbit, which is now the mascot of the Burlesque Bar.
You can find all of this and more at Lieschen Mueller beneath the TV Tower. For those who look attentively, they'll discover many small details that tell this story. And with a bit of luck, you might even catch a glimpse of the real Lieschen aka Marlies! Because sometimes, she sits at the circus bar and observes the colorful hustle and bustle, inspired by her life…